Thank you for your willingness to facilitate a Small Group. You are helping to move people from rows to circles and we know that God will bless you and grow your faith through this experience.
My prayer for you and your group is that you will continue to grow in your understanding and love of Jesus Christ AND that your group may grow in number!
Where Do I Start?
1. Prayerfully decide whether your group would like to meet online or gather in person...or maybe both! Below I have some tips for online gathering as well as in person.
2. When would you like to begin? If you want to host a Small Group in a home or other location (coffee shop, park...etc.) or invite participants to follow our weekend service, then you may wish to launch when we start a new series. If you wish to use a different study or RightNow Media, then you choose your start date.
3. Are you open to new people? Maybe it's time to make a little room for one or two more. We would love to send some new people to your group!


---
Time To Update Your Small Group Info?
As you begin to think about your group starting up again…I would LOVE to know what you are planning to study and when you are planning to start again. Please take just a couple of minutes to fill out THIS FORM
---
Study Recommendations
If your group prefers to enjoy a book or video study, check out my STUDY RECOMMENDATIONS.
---
New Leader Resources
---
Commentary Resources
Here are a few Commentary Resources you might find helpful in preparing for your group study.

biblegateway.com
YouVersion
NIV Life Application Study Bible
In regards to commentaries, it really depends on the particular book that you are studying. For example, if studying Matthew, I recommend Dale Bruner's commentaries on Matthew or John.
In general, there are several commentary series that I've used and have found extremely helpful:
---
7 Types of Questions to Ask in Group
Launching

These are open questions used to kick off a discussion.

Example:

What are some of the questions you wish you could ask God in person?
Clarifying

These questions help guide your group toward accumulated facts by urging them to define, clarify, explain, or compare and contrast. Clarifying questions are particularly useful for bringing the group back on topic when they've begun to stray.

Example:

Can we back up for a second? What was going through your mind when he said that to you?
Follow-Up

These questions draw the entire group into a discussion after a single member has answered a question or expressed an opinion.

Example:

That's really powerful. Thank you for sharing. Has anyone else ever experienced something like that?
Using launching, clarifying, and following-up questions requires intentionality and a little practice. But making the effort can free your group discussions from routine and help the people you lead to grow in their relationship with Jesus.
Summarizing

These questions help a group go deeper by consolidating the ideas they've been discussing.

Example:

Do you see some common threads between what you've said and what Ellen was saying?
Applying

These questions help the group make a connection between the material you're discussing and their lives.

Example:

Based on what we've talked about, what are some things you can do to resolve your conflict with your brother?
Reversing

Reversing questions pose a question back to the person who originally asked it. You don't want to overuse reversing questions because they may become irritating or seem condescending. The more people think through a problem and come to their own conclusions, the more they own those conclusions.

Example:

That's a great question. I don't have a quick answer. What are your thoughts?
Relaying

Use relaying questions to turn a question you've been asked over to the group or to a specific group member. Relaying questions help a group to work through an issue rather than rely on you to provide answers.

Example:

That's a great question. I don't know. What do you guys think?
Asking great questions is one of the most useful skills you can add to your leadership toolbox. It's both strategically smart and relationally powerful.
---
RightNow Media
RightNow Media is a FREE gift from CPC where you can view thousands of great personal and group studies relating to parenting, finance, discipleship, youth and children's topics plus a library of leadership training and events. Once registered, you can invite others to join you (it's free for them too!). These rich and diverse resources will aid in your spiritual formation helping you to live out your faith in every day life.

CLICK HERE
---
Online Options for Your Small Group

With this past year forcing so many groups to move to ZOOM, many of you are more comfortable gathering as a small group online. Here are some of the Online Options you may want to choose.
GOOGLE HANGOUTS:
For meeting for ten people or less, we advise Google Hangouts which can be right from your Gmail calendar:
Go to your Google Mail calendar.

Schedule a meeting.

Invite others.

Guests will join by clicking on the "Join Hangouts Meet" link in the invite or they can also choose "Join by Phone" and can call the number listed.

Each Google Hangout can have

only 10 people but can be unlimited in length of time.
ZOOM:
For meetings up to 100 people, use Zoom:
Go to

https://zoom.us/

Sign up by entering your email address.

Check that email for a message from Zoom.

You will see this in your inbox. Click on "Activate Account."

Create an account by entering your first and last name and creating a password.

You can invite your friends to Zoom if you know their email or simply skip that step for now.

Click on Start a Meeting Now" or, you can copy the meeting link and paste it into an email or text message to your small group.

When you are ready to schedule a meeting, click on the upper right where it says "Schedule a Meeting."
Each Zoom meeting can have 100 participants and last only 40 minutes. If you need longer, you'll need to schedule another meeting to start right after that and have everyone rejoin the call.
---
Start a WATCH PARTY!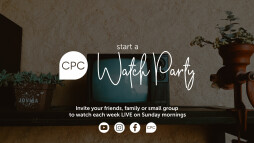 If your group would prefer to meet on ZOOM, then invite your friends, family or small group to watch each week LIVE on Sunday mornings on one of our four streaming platforms: www.cpcdanville.org,
Facebook Live, YouTube (search CPC Danville), OR On-Demand on the CPC MEDIA page. Then each participant can download the Discussion Questions and join you on ZOOM for your Small Group time.
Go To http://www.cpcdanville.org/media/ for the videos and Discussion Questions.
---
Ice Breaker Ideas For Online Groups

Using icebreakers before the start of a Small Group meeting is a great way to break down barriers and create a more open, connected environment.
CLICK HERE for a few game ideas.
---
Questions?
Contact Heather Muncy
CPC Director of Connect