STUDY RECOMMENDATIONS
Need Some Study Ideas for the Fall? Check These Out!
Real-Life Lessons for Igniting Faith in the Next Generation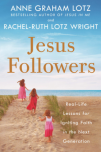 Hardcover – Available NOW
About Jesus Followers
The daughter and granddaughter of Billy Graham offer a warm and inspiring glimpse into their family life, sharing stories that reveal spiritual wisdom and practical insight for raising the next generation of Jesus Followers. Go to https://www.annegrahamlotz.org/jesus-followers/

LIFE LESSONS BIBLE STUDIES
Max Lucado

The Life Lessons with Max Lucado series brings the Bible to life in twelve lessons filled with intriguing questions, inspirational stories, and poignant reflections to take you deeper into God's Word.
Each lesson includes an opening reflection, background information, an excerpt of the text (from the New International and New King Jamesversions), exploration questions, inspirational thoughts from Max, and a closing takeaway for further reflection. The Life Lessons series is ideal for use in both a small-group setting and for individual study. CLICK HERE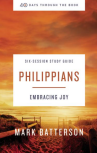 PHILIPPIANS: EMBRACING JOY
Mark Batterson
In this 40 Days Through the Book video Bible study, Mark Batterson serves as a tour guide on Paul's letter to the Philippians. CLICK HERE
A FAITH THAT COMES DOWN TO EARTH
By Tim Keller
Tim Keller's series entitled "James: A Faith That Comes Down to Earth."Originally preached over 1995 and 1996, this series covers the many different implications that Christ and the gospel have for our everyday lives. CLICK HERE

NOTHING TO PROVE
By Jennie Allen
In this 8-session video study (streaming included), follow Jennie Allen through key passages in John's Gospel that demonstrate how Jesus is more than enough and how our thirsty hearts can only be quenched by the living water he offers. CLICK HERE
THE ROCK, THE ROAD, AND THE RABBI
Kathie Lee Gifford
Are you ready to begin your journey to a deeper faith? In this six-session video Bible study (study guide sold separately), Kathie Lee invites you to join her as she visits sites in Israel that have impacted her life. This study is available on RightNow Media.

GOD'S UNBREAKABLE PROMISES
IF TEAM with Jennie Allen
God's Unbreakable Promises: 5 Reasons God Never Fails will teach you the overarching story of God throughout the Bible, that God always keeps his word, even if we don't, and that God never fails, even when his people do.
This study is 6 weeks long, and begins running on ifequip.com and through our IF:Equip emails on Monday, September 13th. Head to ifequip.com and enter your email address to receive the daily emails, beginning September 13th!

THROUGH THE EYES OF A LION
Levi Lusko
It's hard to understand in the moment, but sorrow can give you perspective, purpose, and a platform. It's called a "roar story." And you can use it to inspire others to see the bright future beyond their darkest days. Click here
I have had the opportunity to visit with many of the CPC Small Group Leaders. And so many of you gave me great resources for Bible Studies! Below are more recommendations from our Women's Ministry Program.

Crossing the Waters by Leslie Leyland Fields
20/20: Seen. Chosen. Sent. by Christine Caine
Finding God Faithful: A Study of the Life of Joseph by Kelly Minter
The Ruthless Elimination of Hurry by John Mark Comer (This is not a Bible study but would be a great book to read and discuss in a group.

Everyone likes FREE STUFF.

Here are some studies and books that are FREE. Email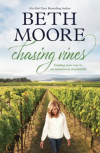 CHASING VINES By Beth Moore
Do you feel your soul withering? Have you lost your sense of purpose? Journey with Moore as she shares the secrets of a fruitful l life! We have about a dozen of these books available for FREE!! Email to claim your copy!

GET OUT OF YOUR HEAD By Jennie Allen
NEW YORK TIMES BESTSELLER • You can choose hope in the midst of chaos. The visionary behind the million-strong IF:Gathering challenges you

to exercise your God-given power to shift negative thinking patterns and take back control of your thoughts and emotions. We have a few of these available for free! Email to claim your copy!
ENTRUSTED-A STUDY OF 2 TIMOTHY-Study guide by Beth Moore
In this 6-session Bible study, Beth will encourage you to guard what God has entrusted to you, further His kingdom by sharing Christ with others, and pour into future generations just as Paul once mentored Timothy. I have 5 Workbooks and the DVD for FREE for your group. Email to grab them!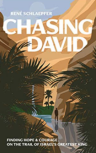 CHASING DAVID By Rene Schlaepfer
David is in the Bible more than anyone but Jesus. But who was he really? Exciting new discoveries are adding fresh color to his story. On this inspiring journey in Israel through caves, deserts, and ancient ruins, you'll discover the real David - and find courage, hope and strength for your own journey.
---
Here Are a Few More Studies to Consider!
You Are NEVER ALONE
Max Lucado
When life feels depleted, does God care? I'm facing an onslaught of challenges, will God help? When life grows dark and stormy, does God notice? I'm facing the fear of death, will God help me? The answer in the life-giving miracles in the Gospel of John is a resounding yes. This book is available on AMAZON and other Christian Book resources.
SEEING JESUS IN THE OLD TESTAMENT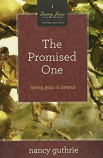 By Nancy Gunthrie
The Seeing Jesus in the Old Testament series consist of 5 bible study guides books written by Nancy Guthrie .The series starts with The Promised One: Seeing Jesus in Genesis and the most recently published The Word of the Lord: Seeing Jesus in the Prophets.
Available on Amazon

WHO IS THIS MAN
By John Ortberg
In this five-session DVD-based small group bible study, Who Is This Man?, John Ortberg reveals how Jesus made an inescapable influence on our world and you will learn how you can make one too! This study is based on a powerful book that can be purchased on AUDIBLE as well as AMAZON.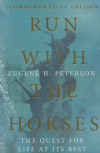 RUN WITH THE HORSES
by Gene Peterson
In a series of profound reflections on the life of Jeremiah the prophet, Eugene Peterson explores the heart of what it means to be fully and genuinely human. In his signature pastoral style, he invites readers to grasp the biblical truth that each person's story of faith is completely original. Peterson's writing is filled with humor and self-reflection, insight and wisdom, helping to set a course for others in the quest for life at its best. CLICK HERE

MAX LUCADO STUDY GUIDES
Max Lucado has a study guide for nearly every book in the Bible. One small group has enjoyed JAMES and is now diving into the Book of Acts. CLICK HERE

THE REASON FOR GOD - Tim Keller
This six session small group Bible study captures live and unscripted conversations between Tim Keller and a group of people to address their doubts and objections to Christianity. Check it out on RightNow Media.
JESUS CALLING-NOTE TAKING EDITION
Leathersoft, Black, with full Scriptures
In this bestselling devotional, the Jesus Calling Note-Taking Edition, readers will receive words of hope, encouragement, comfort, and reassurance of Jesus' unending love. The devotions are written as if Jesus Himself is speaking directly to each reader and are based on Jesus' own words of hope, guidance, and peace within Scripture--penned by one who loves Him and reveres His Word. Each entry is accompanied by Scripture for further reflection and meditation. Includes space to record your thoughts, prayers, and reflections! CLICK HERE
THE POWER TO CHANGE, Jennie Allen
Do you believe you can actually change? Life change happens at the moment you begin a relationship with Jesus. You have been rescued. But what happens when daily temptations and distractions from following Jesus leave you feeling overwhelmed and stuck in the same discouraging patterns? This six-week study with Jennie Allen, Matt Chandler, and Oneka McClellan will help you understand the work of the Holy Spirit in your life and the process of sanctification.
Change is possible because the gospel changes everything. For more information, click here. This study is available on RIGHTNOW MEDIA.

Don't have RightNow Media? Click here.
---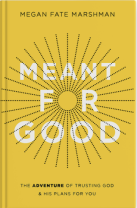 MEANT FOR GOOD by Megan Fate Marshman
Meant for Good is a power-packed, biblical look at the truth that you really can trust God's plan for your life--no matter what your life looks like right now. Bible teacher Megan Fate Marshman will help you discover how to stop discounting yourself from a hopeful future, start living in active dependence on God, and find your way to the good plan He has for you. This book is available on AMAZON.
Did you catch Megan's powerful message on August 2 at CPC? CLICK HERE to watch GOD KNOWS THE PLAN.
---

GRACE IMMERSION by Rene Schlaepfer
Do you have a nagging sense you re never doing enough for God? Do you have a vague feeling of guilt and constant disapproval? Do you feel guilty when you enjoy yourself? Rediscover grace! CLICK HERE
---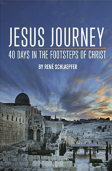 JESUS JOURNEY: 40 Days in the Footsteps of Christ by Rene Schlaepfer
Jesus is honored and even worshipped by millions, but the intent of Christ's teaching often remains obscured by our modern perspective. Seeing the ancient paths Jesus walked--learning the truth about the world he lived in--adds new dimension to his teachings.

In Jesus Journey, pastor Rene Schlaepfer takes you on a trip to the lands of the Bible. Travel with him for forty days through Israel and Jordan in these daily meditations. CLICK HERE
---
RESOURCES FOR UNDERSTANDING RACIAL RECONCILIATION IN AMERICA
---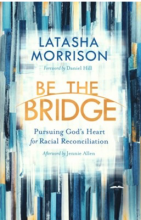 BE THE BRIDGE By Latasha Morrison
Change begins with an honest conversation among a group of Christians willing to give a voice to unspoken hurts, hidden fears, and mounting tensions. These ongoing dialogues have formed the foundation of a global movement called Be the Bridge—a nonprofit organization whose goal is to equip the church to have a distinctive and transformative response to racism and racial division.
Along with prayers, discussion questions, and other resources to enhance group engagement, Be the Bridge presents a compelling vision of what it means for every follower of Jesus to become a bridge builder—committed to pursuing justice and racial unity in light of the gospel.
This book is available on AMAZON.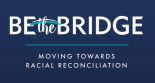 16 BRIDGE-BUILDING TIPS FOR WHITE PEOPLE.
Click here to download a pdf.
---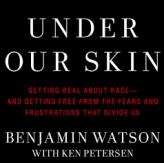 UNDER OUR SKIN: Getting Real About Race - and Getting Free from the Fears and Frustrations That Divide Us
Can it ever get better? This is the question Benjamin Watson is asking. In a country aflame with the fallout from the racial divide - in which Ferguson, Charleston, and the Confederate flag dominate the national news, daily seeming to rip the wounds open ever wider - is there hope for honest and healing conversation? CLICK HERE

---
YouTube Videos on Race
RACISM AND CORPORATE EVIL: A White Guy's Perspective, Tim Keller
Visit https://www.youtube.com/watch?v=EhJJcTKTVGo&app=desktop
HOLY POST - Race in America by Phil Vischer
We need to talk about race. Why are people angry? Why so upset? Didn't we elect a black president? Pass civil rights laws? Isn't racism illegal now? Three years ago Phil and his brother Rob co-taught a class that discussed issues of racial injustice. Check out this video.
Additional Resources for Understanding Racial Reconciliation in America
---
YOU MAY ALSO WANT TO CHECK OUT THESE STUDIES
Christian Living:
Gospel in Life by Tim Keller, 8 session DVD study. Click here for info.
Seeking Allah/Finding Jesus, 8 session DVD study. Click here for info.
Lord's Prayer - RuthAnn Thompson pulled questions from multiple sources. Contact her at
Books in Bible:
Ecclesiastes by Tommy Nelson, 2 sessions on RNM
James by Francis Chan. 12 sessions, on RNM
Ephesians by JD Greer. 9 weeks, on RNM
Marriage:
Meaning of Marriage by Tim Keller, 6 session DVD study
**RNM has several great marriage studies by Francis & Lisa Chan and Matt Chandler. Also videos for the wives and husbands to watch separately.
Parenting:
Ready to Launch by JD Greer, on RNM
It Starts at Home by Matt Chandler, on RNM
Grace Based Parenting by Tim Kimmel, on RNM
Effective Parenting in a Defective World by Chip Ingram, on RNM
Tough Guys, Drama Queens by Mark Gregston. 9 session DVD study
Women's:
Seamless by Angie Smith
Restless by Jennie Allen
Best Yes by Lysa TerKeurst
Armor of God by Priscilla Shirer
Good for newly formed Groups:
Community by Andy Stanley/NorthPoint Church, 8 week DVD study
Good for Groups with people young in their faith:
Starting Point by Andy Stanley. 8 week DVD study
Finding my Purpose in Life by Rick Warren. 6 week DVD study
Current Sermon Series
Click Here for CPC Website
For more study options, contact Heather Muncy at