Join us for our 2nd Annual CPC 'FOR Family Retreat' at Mount Hermon!
August 19-21, 2022
This weekend will be a time to grow closer as a family and also closer as a church family. Adults will experience engaging worship and encouraging messages and children and youth will also participate in fun sessions engaging with God's word and one another.
This is a getaway filled with zip-lining, rock climbing, mountain biking, pool fun and more!
*Programming for retreat sessions start for children 6 months of age.

Our main speaker this year is Eugene Cho. Eugene is the President and CEO of Bread for the World and Bread Institute; the founder and visionary of One Day's Wages and was the founder and former Senior Pastor of Quest Church – an urban, multi-cultural and multi-generational church in Seattle, Washington. Eugene is also the author of two acclaimed books: Thou Shalt Not Be a Jerk: A Christian's Guide to Engaging Politics and Overrated: Are We More in Love with the Idea of Changing the World Than Actually Changing the World?.
---
Below you'll find an example of the the accommodation type for your family. Room configuration will be determined based on your registered family size. Rooms shown may not be the exact room you'll receive, but will include everything listed in each category. Please click on the registration button below each room category to register. After July 1st, 2022 registrations are non-refundable.
Registration is now closed.
COST:
Adults (18+ years) $219–$331
Youth (4-17 years) $137
Children (0-3 years) Free of Charge
*Package rates are dependent on package A, B or C lodging. All packages include comfortable accommodations, welcoming gathering spaces, great food and fun recreation!
LOCATION:
Conference Center at Mount Hermon is located 7 miles outside of the city of Santa Cruz, in the Santa Cruz Mountains, along California's Central Coast
WHAT TO EXPECT AFTER YOU REGISTER:
We will be emailing you the following information by August 1st:
Check In / Weekend Schedule
Recreation Registration
Packing list
SAMPLE SCHEDULE FOR EVENT: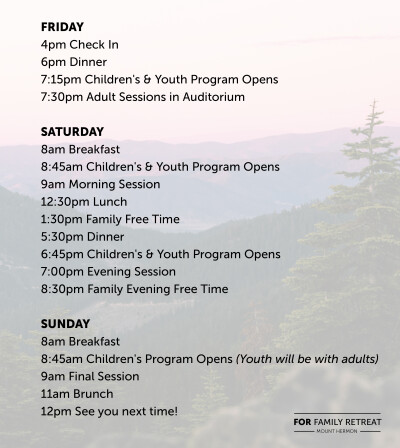 ---
QUESTIONS?
We would love to answer any questions you have! Please email Hannah at