« Back to Staff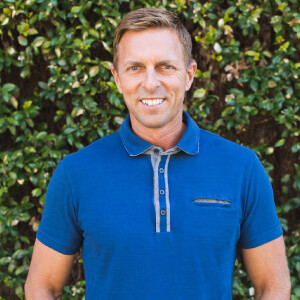 A LITTLE ABOUT ME:
Personal: I've been married to my beautiful wife Bridget for 18 years. She is an amazing wife, mom and friend (and chiropractor:). Together, we have three bold boys--Trevor (15), Owen (13) and Cole (11)--who keep us very busy, and bring us much joy. Raising them is an amazing adventure! Our greatest hope is that they love God, love people, and follow Jesus with their lives. It's amazing to see how many profound life lessons about the Father's love we can learn from raising our kids! We live here in Danville, pretty close to the church. Come on over! If you do, when you walk in, our home will probably be clean...because we scrambled to pick up right before you got there. :)
Professional: I'm a graduate of De La Salle High School, UCLA (B.A.), Pepperdine University (M.B.A.), and Fuller Theological Seminary (M.Div.). So...Go Spartans, Bruins, and Waves! I've served as a pastor here at CPC since 2012. Prior to that, I served as a teaching pastor at 3Crosses Church in Castro Valley for 16 years.
Fun Fact: I once won $16,000 in cash on The Price is Right. True story (and no, it wasn't PLINKO:). Ask me-- or better yet come to our next Membership class--and I'll tell you how it happened. It's pretty sweet.
SOMETHING I LOVE ABOUT CPC:
I love our people. The church isn't a building (though I love our buildings)--it's the people. And CPC has always been a loving, intergenerational, others-centered, influential group of caring people. I grew up at CPC! I came up through ROCK (our High School Ministry), and never stopped loving or praying for this church. It's a family church, full of great (but not perfect) people who love God and love others.
I love our placement. CPC is the first and oldest church in the San Ramon Valley, and I love its downtown Danville location. I believe CPC's placement (at the center of town and the San Ramon Valley) is part of God's plan for even greater gospel impact and influence in our community and beyond.
WHAT I DO FOR FUN:
My favorite thing is to hang out with our family and friends. Family trips are a must! I love date nights with my wife. I love dinners with close friends. And I love playing anything with our boys.
We are a very active family. Exercise is fun for all of us, and it's just the way we live. We have LOTS of fun. We play TONS of sports. We are WAY too competitive. We watch WAY more ESPN than my wife ever thought possible. And I coach our boys in as many sports as possible. It's a great way to spend lots of time with them, and get to know all their buddies and their families.
Bonus facts: Mac over PC. Beach over mountains. And Peets over Starbucks. (All day long. :)